Hi.  My name is Grace and I'm addicted to coffee.  Oh, and clothes. Shocker.  Ok, maybe I'm not THAT addicted to coffee, but we're just in a committed relationship.  Haha.
I'm always on a hunt for good coffee in my area and when my girlfriend/blogger bestie Monica of @livinginvogue introduced me to B2 Coffee, I've been coming back here ever since.
We shot this look in front of the coffee shop and it was also the perfect excuse to get coffee.  Before my "staged coffee run" (lol let's be real), I was cleaning out my closet and trying to get it ready for the next season.  Spring temperatures are here and I am slowly transitioning my wardrobe.  I picked up this cotton/linen button down shirt from Topshop and I know for a fact that I will be wearing it throughout Spring and Summer.  It can still get a little chilly so I always carry a leather jacket with me (I keep one in my car too) just in case.  Why a leather jacket and not a sweater?  Because it makes any outfit look effortless.  Plus its cool!  It's an instant "badassifier" if that's even a thing.
I anchored this casual look with a pop of color which I don't do often! Thanks to my friends over at Kava Shoes for these red beauties.  I will always be a sneaker girl and now I have red ones to add to my collection!  Thank you!
Brb.  Looks like it's time for another caffeine pick me up (and yes, I'm that girl that drinks coffee in the evening so don't judge me).
Happy Humpday! 💛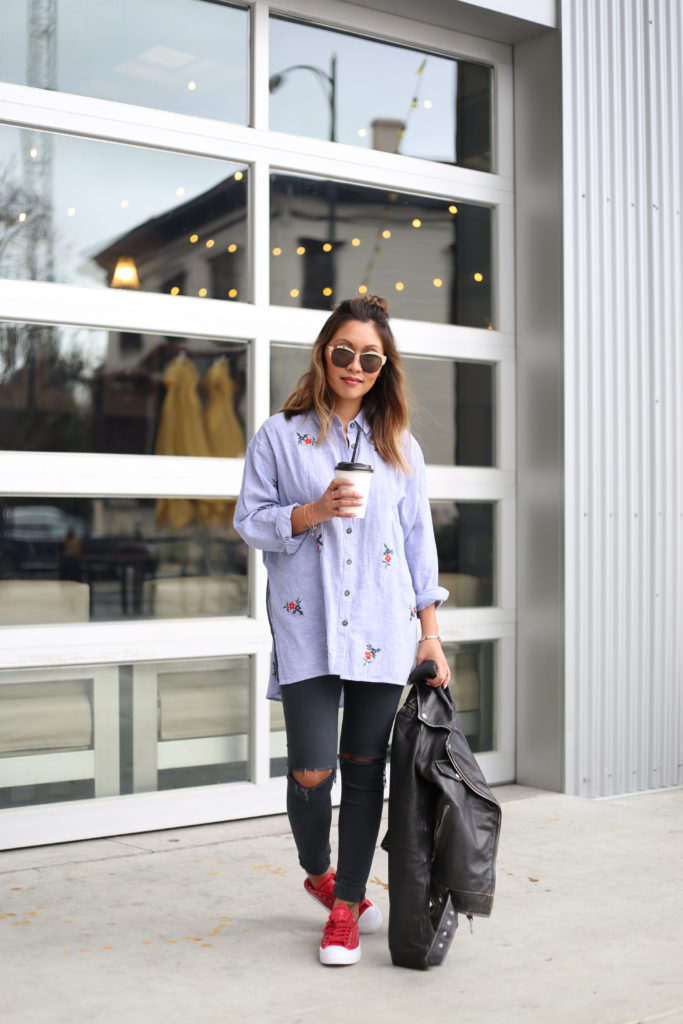 Photos by Arabela Espinoza 
Here's what I'm wearing // and other options
Topshop Embroidered Shirt // Pinstripe Over The Shoulder 
Topshop Jamie Jeans // Free People Ripped Jeans
Zara Leather Jacket // BLANK NYC Easy Rider Moto Jacket (on sale!)
Dior Cat Eye Sunglasses (out of stock) // Hot Optic Cat Eye Sunglasses
Kavafornia Crimson (Red) Sneakers
Essex LA Clutch